---
Respond to market needs and create new products
BlueBooster is a comprehensive platform for selling omnichannel insurance products. One of the elements of the system is the process creator, which allows you to generate sales paths and manage the data necessary to receive the offer. Together with the product calculator, it allows you to quickly create a full insurance purchasing process.
Product calculators allow you to build insurance products yourself, manage their structure, risks and their parameters, and define tariff rates depending on the data entered in the process by Customers.
As part of the product calculator, it is possible to define complex product components and group them into a multi-layer structure.
The product structure can consist of the following levels:
package / variant
risk
element of risk
additional elements (not related to risk)
parameters of the elements
Each level has the ability to define separate properties and business logic. It is possible to bind them together and make the terms of the tariffs binding and the rules dependent on data from the sales process.
On the example of a tourist product - you can define a risk that will have a fixed price independent of the entrance conditions, the same risk may have separate rates as person per day and also depending on the direction of departure or the insured's age, with automatic calculation of the percentage increase when the insured is currently outside of Poland.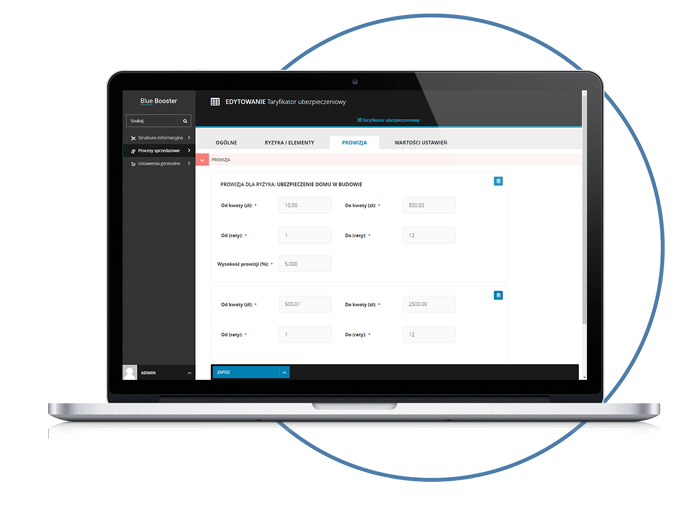 Benefits of using calculators - work quickly and efficiently
Reduce costs, accelerate implementation time.
The key advantage of the solution is the ability to quickly start the sales process. Without the need to integrate with external tariff systems or implementation of product business logic done by IT departments.
In other words - the product calculator allows you to reduce costs, shorten the time to reach the customer, and after starting sales, allows you to quickly make changes and adjust the tariff to the current conditions of the business environment.