---
Build new pages and modify their content without involving the IT department
Use an easy-to-use CMS and create sales services tailored to the current needs of the company.
One of the elements of the BlueBooster sales platform is the intuitive CMS (Content Management System), which allows you to create a functional information or sales website without the participation of a programmer or graphic designer.
You can build a new service according to your current needs, using ready-made elements. Information architecture depends entirely on you - you have full freedom and freedom in choosing individual components.
CMS allows you to create both an extensive information service and a simple landing page connected to a sales application.
Intuitive website creator
Creating an information or sales website using BlueBooster is similar to building with blocks.
You have ready-made components that you can arrange to suit your needs. You can freely change their configuration. After customizing, the appearance of the new website will be consistent with the visual identity of your company.
The ease of use of the wizard means that you will not need the help of a programmer or developer to quickly implement or modify website.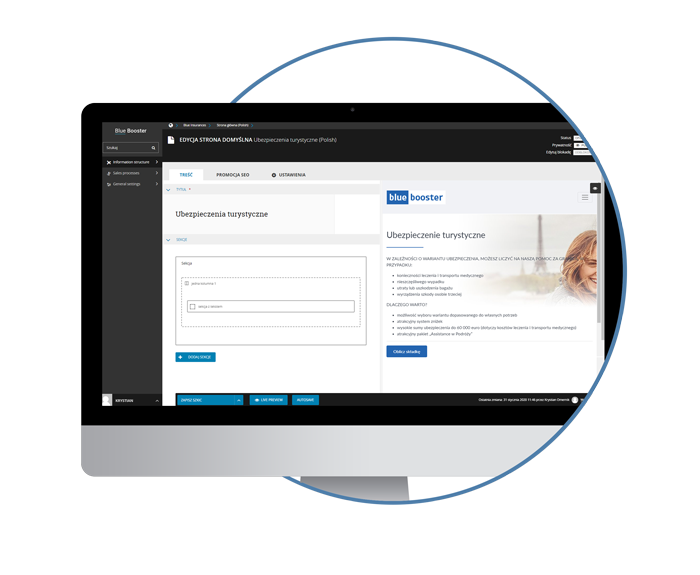 ---
A multitude of components in CMS
Our solution combines the ease of use of CMS with attractive design and advanced functionalities of a dedicated implementation.
When creating a new page, you can use a number of components, among which are simple elements such as: photo box, text paragraph, list, and dynamic widgets, such as: stock chart, map of branches with search engine, calculator, form, etc.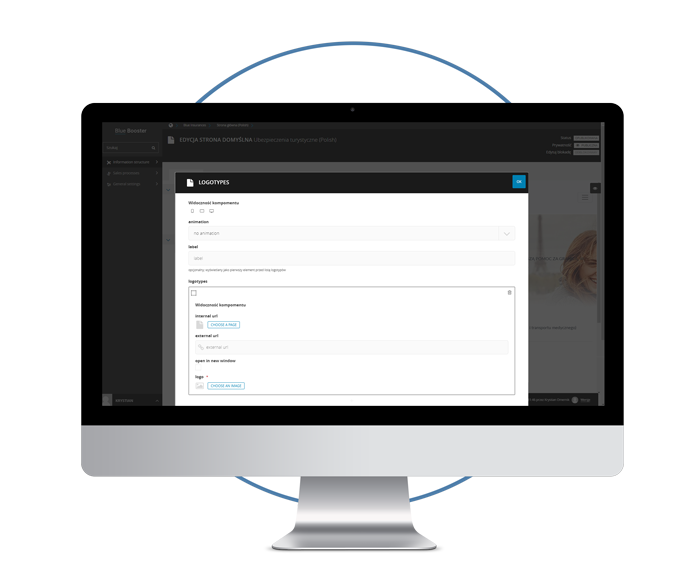 ---
Easy editing, updating and planning
CMS allows quick preview of the designed page, so you can easily check how it will look after saving changes.
Previewing designed or edited pages is realistic, so editing is also possible taking into account pixel layout.
You can also create in advance landing pages for upcoming advertising campaigns or information pages of new products entering the sale only after some time, because the wizard allows you to schedule the publication of the finished page of your choice on the day.
This means that today you can create a page that you want to publish in a few months - this feature makes work easier. Allows you to work on a given page in groups, each of the interested people can see how the page will look and report or make any corrections.